Ballyclare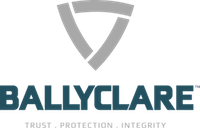 Ballyclare is part of the British Uniform Brands Group, which is based in Manchester, UK. Uniform Brands has been keeping workers safe and comfortable for well over a 100 years – building a reputation as one of the UK's leading workwear and protective clothing suppliers. We are a British designer, manufacturer and distributor of high quality, functional workwear, protective clothing and specialist PPE. We are a trusted producer of structural and specialist firefighting kit and protective clothing as well as supplying managed services encompassing garment supply, leasing, repair and laundering.
Ballyclare International provides customers in the European fire industry with our expertise, knowledge and a range of firefighting kit from structural to technical rescue, wildland and urban search and rescue garments that meet and exceed expectations and requirements.
We have offices in the Netherlands, Germany and Spain. Our young and creative team offers tailor-made software solutions for the administration of garments as well as individual garment concepts to clients.