BIG vzw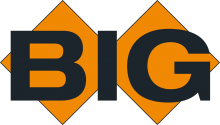 BIG vzw
(Information centre on dangerous goods)
Technische Schoolstraat 43A
2440 Geel
Tel.: +32 (0)14 58 45 47
Fax.: +32 (0)14 58 35 16
BIG was founded in the aftermath of a series of environmental disasters mid-seventies as a subsidized non-profit institution. It was the answer to the growing need for information as well in terms of prevention as intervention when incidents involving hazmat occurred. More than 39 years later we remain a non-profit organization, but one that has to foresee in its own financing. Our main priority is not to make profits, but to assist our users and partners.
The heart of BIG is a massive database containing information on more than 50 000 dangerous substances and mixtures accessible through 2,8 million synonyms and trade names in 17 languages. In order to stay on top of things we are constantly renewing our way of working and embracing the new available technologies to keep our immense database up-to-date and even expanding on a regular basis. But we have also learned that although technology can give great aid, we still need the experts to grasp and explain all the different legislations concerning chemicals on local and EU-level.
BIG has always had the needs of the first responders on its mind and was therefore one of the first to develop applications on smartphone and tablet PC to give easy access to much needed information on chemical hazards at the most crucial moments. It is important that the information provided is of high quality and consistent and the applications are easy to handle. We value the input of first responders dealing with HAZMAT a lot and are therefore always seeking for new opportunities to come in contact with them.
BIG prides itself in the many co-operations we have with national and international bodies and that we can count as well numerous multinationals as local SME's amongst our users.