Buveco Gasdetection B.V.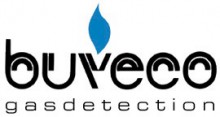 Buveco Gasdetection BV in Bleiswijk is a healthy and developing company, it has been active in the area of gas detection equipment since 1978. To protect man and the environment, Buveco develops, assembles, sells, rents and maintains mobile and permanently installed gas detection systems in accordance with the ISO 9001-2008 quality system.

The Buveco products are used in among others waste water treatment plants, refineries, chemical plants, the food and beverage industry, laboratories, soil remediation and hospitals.