EAL Apeldoorn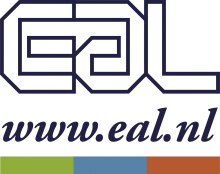 EAL has been around since 1972 and although the HQ is our Dutch office in Apeldoorn there are offices in Belgium, Luxembourg.
The main products in the EAL portfolio are:
• Full Hybrid Voice Loggers
• Access Control and Security Management Systems
• Mobile data and GPS orientation Systems
• Customer-specific software and hardware
EAL distinguishes herself from other suppliers by the entire portfolio consists of "own" products. Both productions being software and hardware development is fully realized in-house. This allows EAL to remain fully independent in the market, enabling to always fulfill what was agreed with a customer. Unlike others, we don't need to make any additional agreements to the final vendor. This independence guarantees the easy access towards our development at all times.
Despite EAL works basically with fully "owned" products, we are fully conscious that we are not alone in the playing field of this technology in the world. We therefore make it our business where /when necessary to realize an interface to third-party systems, often at the request of the customer. This provides maximum flexibility for our customers, because it allows that migrations of various technologies are not only possible, but ready to use where/ when it suits the customer.
It is therefore obvious that EAL excels in the field of customer-focused flexibility, an innovative attitude and relationship management. Many of our customers use the complete product portfolio and EAL is therefore regularly requested to create specific software for those customers. The fact that major European tenders are awarded to EAL indicates that its success not only relies on relational contacts, but is also based on price / performance. EAL belongs without any doubt to the best in this playing field.