ECA GROUP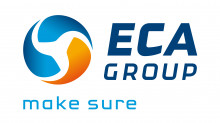 The ECA GROUP is renowned for its expertise in robotics, automated systems, simulation and industrial processes. Ever since 1936 it has been developing complete innovative technological solutions to perform complex missions in hostile or restrictive environments.
Its products are used by a demanding international clientele requiring the highest levels of safety and efficiency, mainly in the sectors of defence, maritime, aerospace, simulation, energy and industrial equipment.
ECA Group provides innovative and resilient solutions to meet the challenges of the Homeland Security domain. Supporting customers world-wide both government agencies and private sector organisations, ECA Group operates at the cutting edge of robotic systems technology and provides a wide range of systems for the protection of critical infrastructures both at sea and on land.
ECA Group supports search and rescue operations with efficient aerial and on-water unmanned robotic solutions to identify potential risks or theats to rescuers.
In search and rescue operations, ECA Group systems can provide that all important first response. This can be achieved through the employment of USVs, ROVs and UAVs. Much like border surveillance, these systems are of great benefit in remote areas which may pose a risk to rescuers.