Explosive Clearance Group BV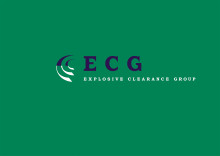 Explosive Clearance Group (ECG) is the independent specialist in the field of Explosive Remnants of War (OOO) detection. Expertly carrying out the entire detection process is our core activity. As a reliable partner, we have the expertise to guide you through the entire process from A to Z or to limit our services to specific phases.
Explosive Clearance Group has many years of experience in the field of explosive ordnance disposal. We can provide you with reliable Preliminary Surveys and Risk Assessments to gain a better understanding of the potential presence of Explosive Remnants of War in your project area and the risks that OO may pose to your planned operations. In areas that have been designated as suspected of containing explosives, we relieve you of the burden by identifying any explosives and approaching them in a careful manner. We do this with an eye to cost, time, and, above all, safety. You can also come to us for the implementation of aircraft salvage and customized advice. In short, ECG is the right partner for dealing with potential risks regarding Explosive Remnants of War as safely, efficiently, and carefully as possible for your project location.