HONOR Safety & Consultancy B.V.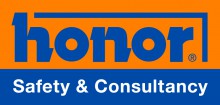 Height Safety, Rescue & Evacuation systems, Gas-Tight & Chemical Resistant Suits
HONOR Safety & Consultancy, founded in 1948, is an international experienced manufacturer, consultant and exporting company that focusses on height safety solutions, rescue and evacuation systems. All our specialized products are developed and produced in The Netherlands (Holland) - Europe. Our objective is to offer optimum solutions for ALL height safety, rescue and evacuation during work situations that can occur!
To stay in control to be able to reach this goal we as manufacturer - in our home country – work through the whole chain are in touch and advise direct to the end-users. Our safety engineers analyze the end-users situations. To be able to solve potential unsafe situations in an optimum way we - together with our customers - have developed many unique high-end products. Most of our HONOR-products are modular; devices, anchors, lifelines, brackets, etc.