Koninklijke Utermöhlen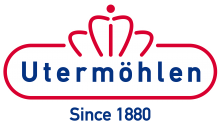 Utermöhlen has been a recognized and leading brand in professional wound care for many years. The Utermöhlen product range consists of first aid kits and bags, first aid sets, first aid course sets training sets and first aid accessories such as detectable bandages. The products, which are intended for business and governmental institutions, are an important addition to any working environment and/or training.
Utermöhlen products ensure that companies always have access to the necessary materials in the case of accidents or emergencies. A range of products has been created, consisting of a number of branch-specific first aid kits to match the safety requirements of each branch. An example is the first-aid kit for businesses subject to HACCP guidelines. Other examples include first-aid kits for day care centres, sports, construction or industry. Furthermore, the branch-specific first aid kits can be expanded with separate modules. Due to the fact that it is possible to replace used modules with new modules means that a company´s first aid kit can always remain complete and up-to-date.
A cryotherapy (freezing) range of products is launched next to the wound care range. This category includes the Cryo Professional, a cryotherapy product intended for medical professionals to treat and remove warts and other benign skin lesions.