LEVF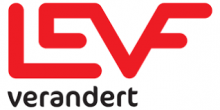 A crisis requires mentally healthy care providers and a leadership that has strong resilience to cope with the crisis.
It is precisely in the field of mental resilience that much can be gained in cases where the stress resistance of the care provider and management is called upon.
We are LEVF, an innovative company with its own view on change processes and achieving optimal resilience in people and organisation. We are able to measure the resilience of your employees and intervene where the pressure is (too) high at that moment. We are also able to screen your organization and write an action plan together with you to strengthen resilience.
A higher mental resilience leads to better performance, more innovation, greater commitment, higher stress resistance, less absenteeism and a higher degree of well-being.
Our approach is characterized by growth from within instead of pressure from outside. We work together with the organization to bring out the strength and talents of the employees in the organization. This makes collaborating on change fun and relatively easy.
We can also perform a post-measurement so that you actually gain insight into the results.
Working together with le(v)f (guts) on a resilient organization for effective crisis management. We look forward to seeing you at our LEVF booth (E9).