Masters Of Gloves bv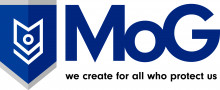 Masters of Gloves is a young, dynamic and dedicated company active in the development of gloves for users who consider quality, safety and comfort extremely important. We create customized gloves for armed forces, police, fire brigades and rescue teams. Our mission is to create gloves for those who protect civilians in everyday or severe and even life-threatening circumstances.
Each MoG project is built from scratch, addressing the critical needs of the end user, as we are a firm believer in co-creation. Through the process of design thinking, whereby products are created through the interaction of designers and users, our gloves take shape organically and are constantly evaluated based on physical characteristics and performance levels.
Our portfolio mainly comprises gloves for tactical applications such as cut and puncture resistant gloves, but also types for roping applications (Fast Roping, abseiling, ...), anti-riot, flame retardant and water repellent gloves, and several types that can be used within rescue teams and fire brigade interventions. In addition, we are continuously working on new developments in function of tenders or special projects for numerous (tactical) divisions worldwide.