Sentaz | Teijin | Elitac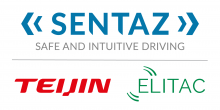 Sentaz is a joint-venture between Teijin (Aramid) and Elitac who focusses on safe and intuitive driving for professional drivers. Sentaz has developed an innovative turn-by-turn navigation system that guides drivers by gentle vibrations in their seat. This tactile navigation system has been developed with, and successfully tested by, end-users.
Teijin is a technology-driven global group offering advanced solutions in the areas of environmental value; safety, security and disaster mitigation; and demographic change and increased health consciousness. Teijin has the ambition to become a safety solutions provider aimed at the personal protection of first responders. One of the new developments is the active Cooling Garment.
Elitac enables wearable innovation by integrating electronics into textiles. In our wearable lab we enable different partners to develop from idea to smart garment. Use our stretchable electronic circuits, operating system and expertise in agile wearable technology development in your wearable development.