Serious Game Media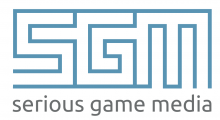 Gamify your company! We tackle organizational challenges with game techniques and serious games. Serious Game Media develops game concepts together with our clients. Our goal is to deliver value to your organization through game techniques. This can be done through a serious game or by adding game elements within your organization. By adding gamification in your organization, employees and managers, but also customers and relations are more actively involved in your company.
All people are gamers by nature! This is not so much related to competition, but more with our intrinsic motivation to continually improve our own skills. If we are intrinsically motivated and involved, positive behavioral change and efficient education is much easier to achieve. From this vision, games can be used in all kinds of areas, such as process improvement, training and education, promotion and events.
About C2000 Trainer™
For the Safety sector we have developed C2000 Trainer™, in close collaboration with Regional Ambulance Provision Utrecht (RAVU) and training center METS. Serious Game Media offers with C2000 Trainer™ a solution for a well-known problem: namely the effective training of communication over the C2000 network. Especially at times of great effort, communication via this network does not always work well. By using the correct protocols the maximum capacity of the masts is reached less quickly.
With C2000 Trainer™, SGM offers a unique multiplayer game and the possibility to practice large scenarios in groups in real time without burdening the actual network. With C2000 Trainer™, large disaster scenarios can be re-enacted as "real". All users receive assignments and situations in each scenario. Users have to use the right communication protocols with their own portophone on their smartphone.
The Ambulance Care is the first sector where SGM has its C2000 Trainer™ in tune. C2000 Trainer™ wants to make custom content available for the other sectors, so that all disciplines can train the relevant situations and communicate in real time according to the C2000 protocols.