Tein Technology BV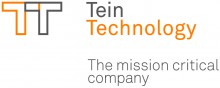 Tein Technology is an IT organization that has been active for more than 100 years in various specific markets with the focus on realizing customer-specific and optimal solutions for our customers. This is achieved through the development, integration and configuration of as many existing products as possible.
To achieve this, Tein Technology has specialized consultants, solution architects and application engineers who know how to combine market knowledge, products and systems into the most optimal solution for the user.

Tein Technology is flexible and has extensive experience in areas such as voice communication, video management, radio communication, data networks, automatic identification systems and software development. These solutions are optimally integrated to meet customer requirements. These solutions are subsequently supported by Tein Technology. The maintenance and support of Tein Technology is available 24/7, 365 days for 1st to 3rd line support.
The service organization is organized according to the ITIL methodology and, where possible, will use the 'Pro Active PRTG' monitoring facilities that Tein offers to minimize the number of incidents. If incidents do occur, the response and recovery time are optimized. Markets where Tein Technology offers solutions and service include:
Emergency rooms
Control rooms
Camera surveillance
ANPR
AID
WIM
Tunnel management
AIS
Radio communication and compliance.