Vandeputte Medical BV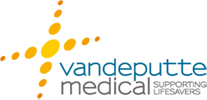 Vandeputte Medical B.V. is a medical wholesaler specializing in first aid.
For 40 years we have been supporting care providers who save lives. This is done by providing excellent medical products, but mainly through the added value and knowledge of our employees.
Whether it concerns in-house emergency services (BHV) & first aid, ambulance assistance, medical practices or governments, from one first-aid kit, AED or evacuation chair, to a complete set-up of a medical practice or ambulance; Vandeputte Medical has a suitable solution for all these segments.

Our mission
Supporting Lifesavers
Support the work of care providers as much as possible by ensuring that the best medical resources and services are always available where necessary.

Our vision
We make a substantial contribution to safety and health for all people in The Netherlands. By offering and maintaining a balanced package of resources and services and by pursuing continuous improvement, care providers are able to act adequately in the event of incidents.