VB-Airsuspension B.V.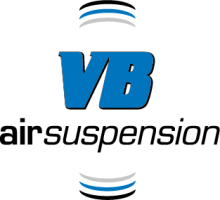 VB-AIRSUSPENSION IS ACTIVE WORLDWIDE.
As a leading company experiencing rapid growth, we want all our customers across the globe to benefit from our premium suspension applications. These suspension applications provide for improved comfort, better driving characteristics and increased safety.
MAKING EVERYDAY SMOOTHER.
According to this motto, we aim to provide our customers with the best possible service – and we've been very successful so far! With the help of a motivated team, we have been developing and building suspension applications and various air suspension systems for light commercial vehicles, ambulances, car transporters, motorhomes, 4x4 vehicles and off-road vehicles for over 25 years. Our product portfolio ranges from reinforced springs to full air suspension solutions with active shock absorbers for the front and rear axle.
We are especially proud of our official recognition from big names such as Mercedes-Benz, Volkswagen, Ford and Renault – this is the highest recognition that an accessory specialist can receive from a vehicle manufacturer. TÜV approvals and "letters of no objection"​ (LONO) mean that our products are also available for a number of other vehicles.