V&VN Ambulancezorg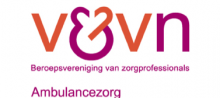 Ambulance care is an important pivot in acute care. Whether you are in the emergency room or are on the road with the ambulance, you are constantly asked for a great alertness, creativity and passion. V & VN Ambulance care wants to be a binding factor for all parties involved in ambulance care. This allows us to improve the quality of care, working conditions and employee satisfaction. As a member of V & VN Ambulancezorg you can come to us for information and advice. We are working on tightening up the job profiles and renewing the training structure. Important is the greater effectiveness and efficiency of our efforts in the acute care chain. We maintain close contact with the important players in acute care, also abroad. Through continuing education, thematic meetings and our own trade journal you stay well informed of the latest developments. Join V & VN Ambulance Care! Together we build better acute care, which is also good for you as a professional.
What binds us
Professional
Patient and service oriented
Initiative
Focused on cooperation
Who wants to say something about the future must know the past. The core values ​​just mentioned originate from the idea that V & VN Ambulancezorg wants to bridge the gap between the past and present future. These core values ​​describe 45 years of professional associations in the Ambulance care sector (November 2004). The Professional Association for Ambulance Care was established on 28 December 2000. The BVA arose from a merger of the Association of Chiefs / Head Nurses (VCHV), established in 1959, and the Dutch Ambulance Association (NAV), founded in 1982. Within the BVA, for example, all professional groups in the ambulance sector have been brought together. On December 20, 2006, the BVA merged with Nurses and Nurses in the Netherlands and on 1 January 2007 was transformed into V & VN Ambulance Care. V & VN Ambulancezorg has a fully-fledged place alongside employee and employer organizations. Previously, the idea was to form a branch organization for ambulance care by merging the professional association with the employers in the sector (LFAZ). Because the interests of employers and employees sometimes differ, this has not taken place. The employers are now united in Ambulance Zorg Nederland (AZN). V & VN Ambulancezorg has continued as an independent professional organization, not tied to employers or trade unions. However, V & VN Ambulancezorg works constructively with all parties: employers, employees and other organizations and organizations involved in ambulance care.