World Police & Fire Games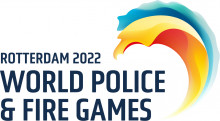 For the first time in its history, the international sporting event for police, fire, customs and corrections services personnel are coming to The Netherlands.
From 22 to 31 July 2022, the Netherlands will be dominated by the World Police & Fire Games. For ten days, the port city of Rotterdam will be the beating heart of this major and above all unique international sporting event.
More than 10,000 competitors from 70 different countries participate in the WPFG2022. They will compete in 63 sports, including CrossFit, athletics, water polo, kite surfing and the ultimate firefighter.
Meeting, sportsmanship & respect
The World Police & Fire Games 2022 will use sport as a means of establishing encounters between first responders. In addition, the aim is to stimulate sportsmanship and to generate respect for all those emergency workers who are ready for us day and night.

Hence the motto of the WPFG2022:
IN SPORT WE UNITE

It promises to be a great spectacle for both participants and spectators in the summer of 2022.