Leen Groen
Red Cross Netherlands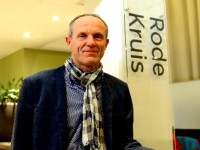 About Leen Groen
Leen Groen was born in Schiedam  and attended several schools in the vicinity of Rotterdam. After his graduation from High school he started as a 18 years old teenager the education at the Royal Military Academy in Breda. He became a professional officer within the Infantry.
It was necessary to have several operational jobs, such as platoon commander, company commander and second in command of an Infantry battalion. After that I was trained to be an Intelligence Officer on several operational levels, also within NATO. During 6 years I was the Commander of the School  of Military Intelligence, also being the Dutch representative and president of the Intelligence Working group for all European NATO countries.
My last 15 years in the Army I trained and educated many officers and troops for their deployment for Peacekeeping and fighting missions all around the world.
My retired as lieutenant-colonel was in 2011, but I was happy to start as a consultant for National Security and Crisis management. After 3 very nice years the Netherlands Red Cross appeared at the horizon and I applied for the job I still have, being Staff member Policy and Quality for the Department of National Disaster and Relief.
It's my job to contact all partners on National level in our country when we see an opportunity to improve our methods, quality of performance and to explore new ways to stay relevant as a national Relief Organization.  Medical Assistance as well as Citizen Care and Protection are the major issues within our Department. Also the way citizens respond to emergency situations and the way we could facilitate these initiatives, is subject to our discussions.