THIS IS THE REASON WHY YOU SHOULD VISIT THE EXHIBITION ABOUT SAFETY DOMAIN
MAY 18TH & 19TH 2022 | AIRPORT TWENTHE

On the 24th & 25th of April 2024 the fourth edition of the eRIC (Disaster Management, Incident Management & Crisis Management) exhibition will take place at the airport of Twenthe in Enschede. For two days, this is the connecting platform for safety professionals, knowledge institutes and suppliers of vehicles, protective clothing and equipment, robotics and 3D training applications, specialist support teams, connections and information provision. eRIC shows state of art products and services across the whole width of the safety domain.
At eRIC you will find products, services and knowledge so you can do your tasks better and more safely. eRIC is a unique interactive practical stage where product innovations are presented and demonstrated. If you want to be informed about the latest innovations within the security domain and increase your knowledge & network, then eRIC is the place to be for you!
WHY YOU SHOULDN'T MISS eRIC
 
The most relevant and current topics within the security domain will be covered.
Enrich your knowledge on drones, control room, virtual reality and the energy transition.
 
The combination of an indoor exhibition floor and outdoor demonstration areas make eRIC unique.
Through demonstrations, novelties within the security industry will be shown.
 
Meet fellow aid workers from across the security domain.
Boost your relationship with partners within the safety and security sector.

200+ EXHIBITORS
DISCOVER THE NEWEST EQUIPMENT
Over 200 manufacturers and suppliers in the safety industry will present themselves at Twenthe Airport. They will showcase the latest innovations that can make the Netherlands a little safer and/or ensure that you can execute your tasks even better.
There are exhibitors in the field of sustainable vehicles, clothing & gear, 3D training applications and communication tools. Visit the stands or demonstrations and get informed about novelties within the safety sector.
MULTI-DISCIPLINARY DEMO
ONE WELL-OILED MACHINE TOGETHER
Not a single service can single-handedly deal with the challenges of a complex violent incident. This will become very clear during the spectacular multi-disciplinary demo.
A 'timelapse' shows a realistic complex incident scenario, in which not only the police, the fire brigade and the ambulance service but also specialist teams are called into action. You see how different disciplines within the safety domain work together and which branch does what exactly. Each has its own specific knowledge and skills, but together they form a well-oiled machine!
THOUSANDS OF AID WORKERS
MEET EACH OTHER & SHARE KNOWLEDGE
All emergency services will be present at eRIC. Talk to colleagues from the security domain, known or unknown. Share experiences with (fellow) emergency workers from the police, Ministry of defence, fire brigade, ambulance, Rijkswaterstaat, safety regions or safety professionals from the business community.
From first responders to managers and from purchasers to directors, they will all be present at Twenthe Airport on May 18th and 19th! Make sure you and your colleagues are there too.
SIGN UP FOR FREE
Do you want to know about the latest developments and innovations in the security domain? Or would you like to meet industry colleagues and see them in action? Visit eRIC for free at Twenthe Airport on 24 & 25 April. Which colleagues are you bringing along?
CAN WE HELP YOU?
Do you have questions about visiting eRIC?
Team eRIC is here for you!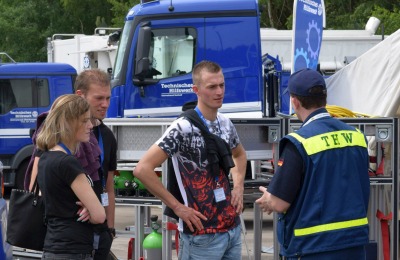 Contact us at
expo@exporic.nl or call: +31(0)40 297 94 93